Note: Only credit cards are supported.

As a USER or ADMIN you can connect your KBC business portal with Rydoo by following these steps:
1) Open up your KBC online banking
2) Click on 'Profile' top right of your screen
3) Click on the 'Settings'-button in the middle of the displayed page
4) At the right side of the page you can now make a connection with Rydoo via the dropdown next to 'Connect with'
5) Verify with your card reader.
The connection is now started.
One day later, you can confirm the connection via your Rydoo account:
As a USER
Go to your 'Personal settings'

Click on the menu 'Payment methods'

When the connection worked, an empty circle will now appear in the line of the credit card to validate it

When re-opening the card detail 3 transactions will be displayed with missing information

Completing one of them + clicking on 'Save' will complete the validation

In the card line, the empty circle will now be green with a check mark in it

You are all set and transactions will now enter your account in the menu 'Transactions'
Go to the 'Company settings' > 'Users' > Open up the relevant user

Scroll down to the section 'Payment methods'

Add the correct card by clicking on the relevant button > select 'KBC Credit Card' in the first dropdown of the payment method details > complete all other details < click 'Save'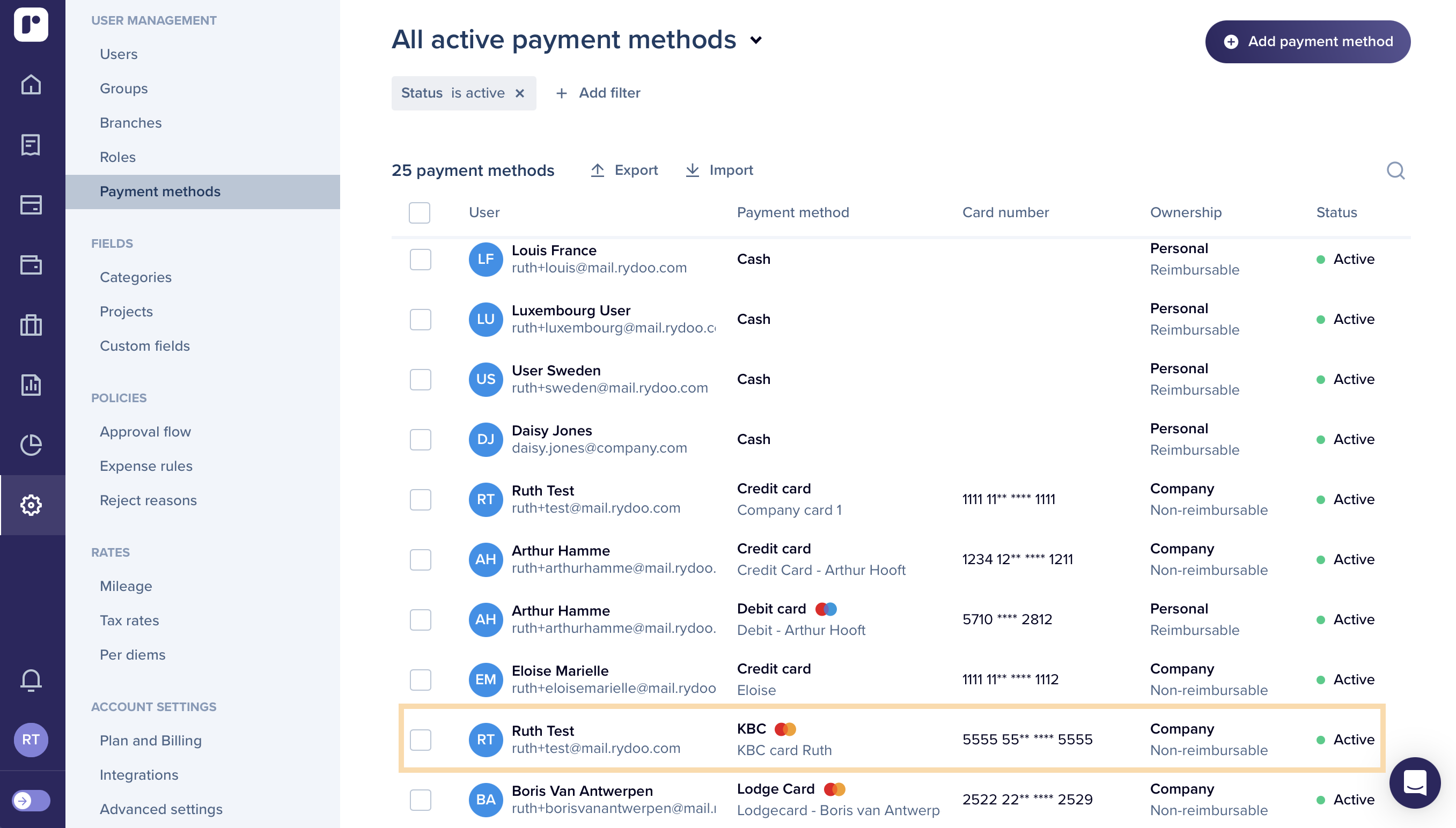 When the connection worked, an empty circle will now appear in the line of the credit card to validate it

When re-opening the card detail 3 transactions will be displayed with missing information

Completing one of them + clicking on 'Save' will complete the validation

In the card line, the empty circle will now be green with a check mark in it

You are all set and transactions will now enter the users' account in the menu 'Transactions'