Looking for some guidance during your first steps as an Approver and/or Controller in Rydoo? This guide will walk you through step-by-step.
First, let's distinguish the Approver and Controller roles.
Both can approve and/or reject expenses
The difference? Approver is the first level of approval while controller serves as the second level of approval.
Example: If you opt for two levels of approval, an expense will first be approved by an approver (the first level), and only after that, a controller (the second level) can approve or reject the same expense.
Apart from the key difference, both approvers and controllers roles share many similar functionalities. Here's what you need to know:
Approve/control expenses ✅
As an Approver/controller of course your main task is to approve/control expenses. This is possible on the Mobile and Web versions of Rydoo.
Edit expenses 🖊️
If your company policy allows, you can edit expenses as an Approver or Controller. This allows you to change some data.
Send reminders 🔔
You might want to remind a user to submit their expenses when their expenses are still in the 'to submit' status. Approvers and Controllers therefore have the option to send e-mail reminders to users in Rydoo.
If you're a Controller, you can also send reminders Approvers to approve expenses.
Add and remove columns in the expense overview 📂
You can customise your expense overview. You can add and remove columns.
Use filters or use the search bar 🔎
If you're looking for certain expenses, you can either filter expenses or use the search bar.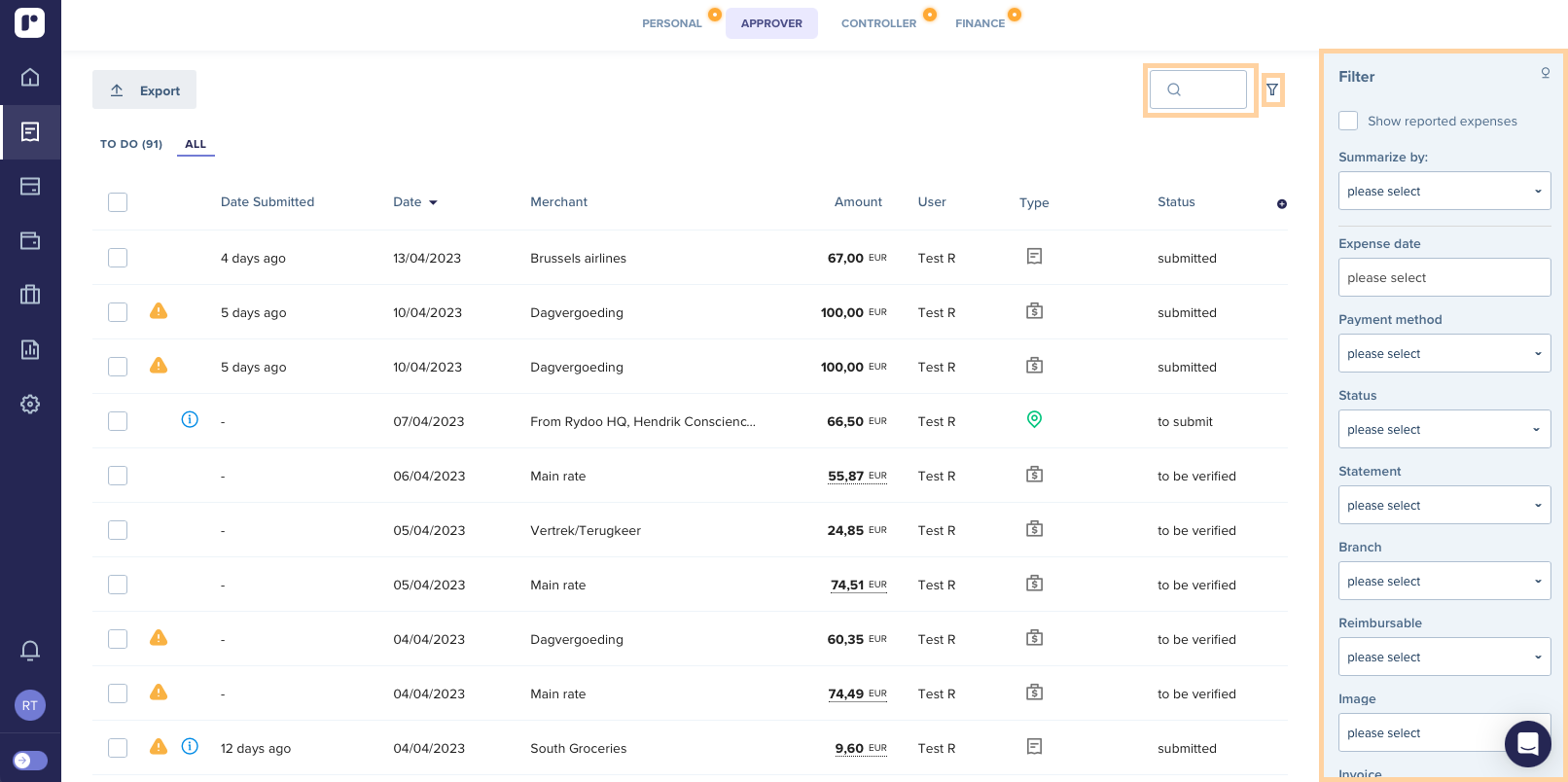 Continue exploring Rydoo 🔎
There is lots more to learn and explore in Rydoo. The following articles can be useful to check out:
Approver Basics
Delegation and Notifications
Reports
Troubleshooting
You can find more guides at our help center. We're always happy to help with questions, you can reach out to hello@rydoo.com.