When you log in, your personal dashboard will appear. The left pane is what we call the Navigation Bar where you can select the different sections in Rydoo which will be discussed later.
Navigation Bar
To fix/collapse the navigation bar, simply click the slider bar at the bottom left side of the page.
Collapsed Fixed


Dashboard
The Dashboard is your home screen. This is where your personal expenses are shown such as Quick Icon in adding expenses, To Do, Company Dashboard, Expense Summary, and Recommendations.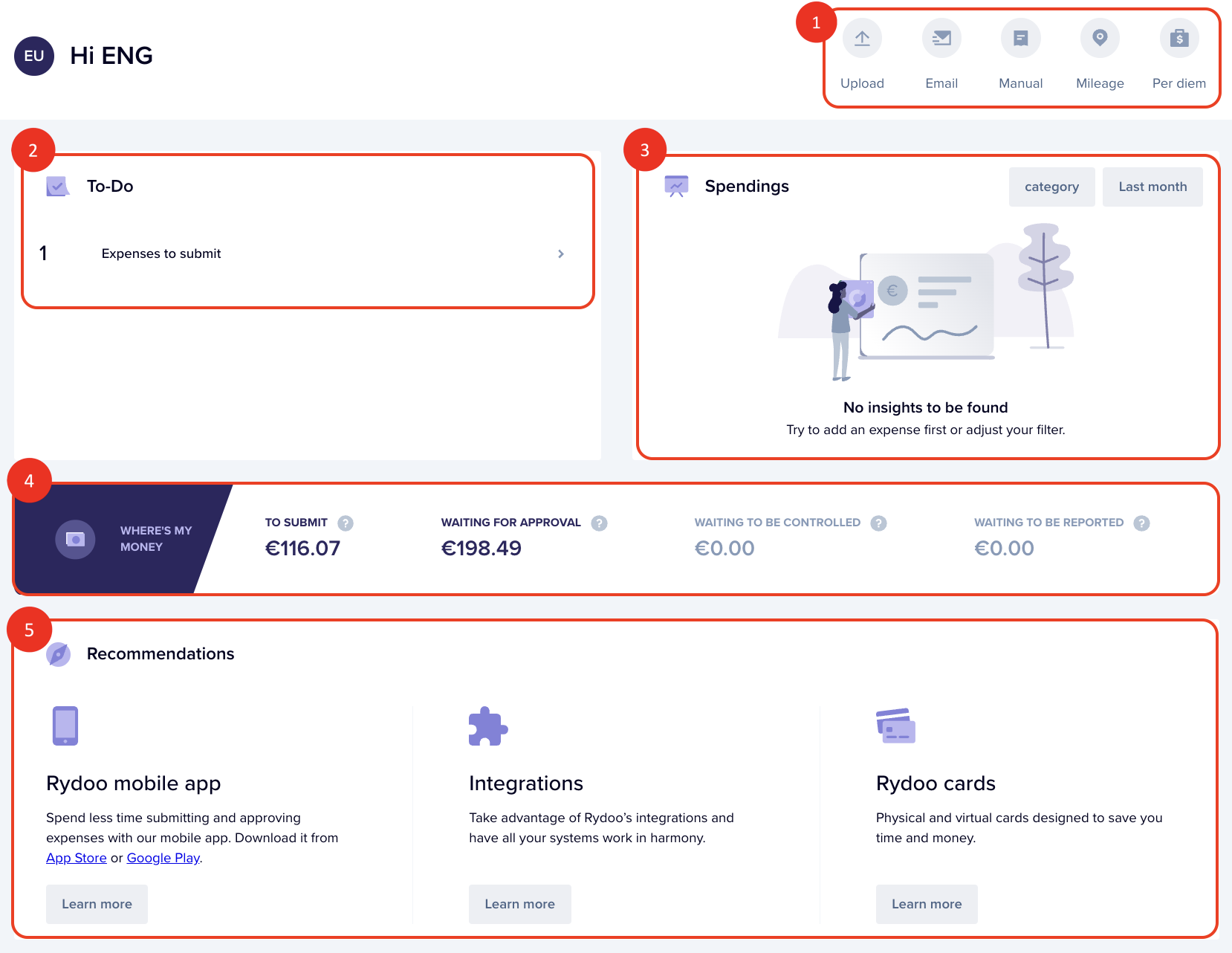 1. Quick Icons
This is where the name of your profile will show and icons to add expenses. The different ways to add expenses will be explained on the succeeding page.
NOTE: Mileage and Per Diem will only show if configured for your company.
2. To Do
This area will show you the summary or total number of expenses waiting for your action before you submit.
NOTE: Clicking Expenses To submit will redirect you to your Expenses.
3. Company Dashboard
This area is configurable depending on your company's preference. This is where the company logo, announcements, and point of contact are normally posted.
4. Expense Summary
This area is where you will see the summary of your expenses. Whether the amount is about to be submitted, waiting for approval, and/or reported. Is a graphic analysis of your spending which can be sorted annually, quarterly, and monthly per Project, Category, Status, and/or Payment Method.
| | |
| --- | --- |
| Status | Description |
| To Submit | This is the amount of expenses that you still need to submit. |
| Waiting for Approval | This is the amount that your approver still needs to verify. |
| Waiting to be reported | This amount is awaiting export/processing by your Accounting team. |
5. Recommendations
This is where you can see other tools that you can use within the platform such as mobile apps, personal integrations, and credit card reconciliation.